Bitcoin is a revolution because it makes it possible to exchange value between users anonymously. This is why it has been called "Internet Cash". Yet, is it still easy to see today possible to buy bitcoins without verification or identity checks and so anonymously?
With the success of cryptocurrencies, regulators around the world quickly set about controlling the purchase and sale of tokens. They have indeed asked different players in the blockchain universe, exchange exchanges and brokers in particular, that they comply with the same requirements as banks. That is verifying the identity and origin of investors' funds. These are the famous "KYC" for "Know your Customer" or "Know your customer".
Therefore, it is now increasingly difficult to buy bitcoins and other crypto-currencies without providing a copy of your passport and often other documents.
There are still methods to buy bitcoins without checks.
LOCALBITCOINS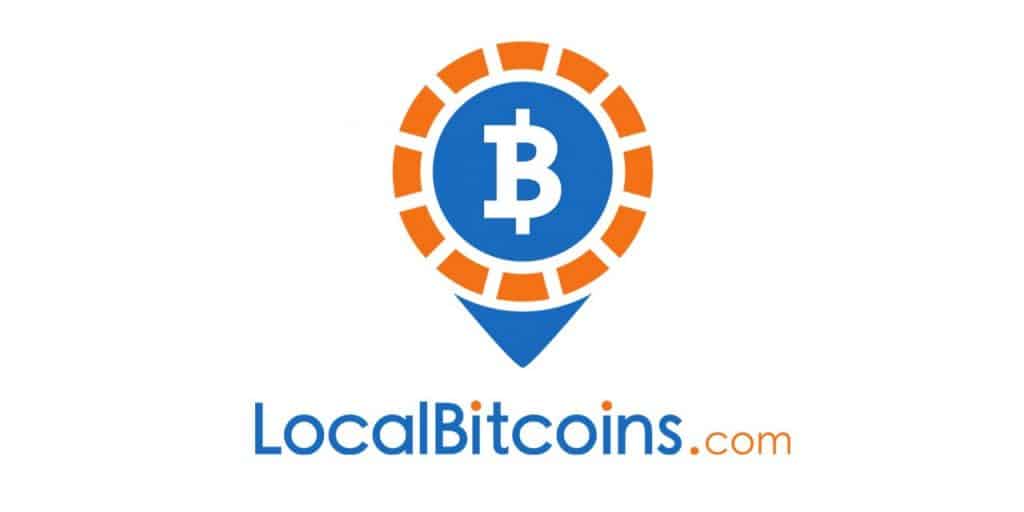 As we already mentioned in our full article ("Localbitcoins Avis"), this platform connects buyers and sellers of bitcoins. You can also check out our video that will show you how to use Localbitcoins step by step:
The transfer of bitcoins and currencies, however, do not pass through LocalBitcoins. For this reason, they are not legally obliged to verify the identity of its users.
The platform only offers a secured environment for bitcoin buyers. But transactions are made directly between them.
Benefits of peer-to-peer platforms
– very low fees:
The services offered by these platforms are limited and for this reason they offer very interesting fees. For example, if you buy bitcoins on Localbitcoins, you will not pay any fees. Only the seller will incur a 1% fee.
– large number of possible payment methods:
As you trade directly with the bitcoin seller, you are free to choose the payment method that best suits both parties. These platforms therefore offer a wide choice of payment methods. It is important to note that the choice of the means of payment can vary the fees significantly.
– anonymous:
Again, because the transactions are peer-to-peer, the platform is not required to verify your identity. You will be able to buy bitcoins anonymously if your seller or buyer does not ask you to reveal your identity.
Disadvantage of peer-to-peer platforms
– more risks:
The fact that payments are made only between users is a risk. Fortunately, these platforms typically offer pledge services to ensure that bitcoins are kept until the end of the transaction.
– limited number of crypto currencies available:
as for the broker, it is generally possible to buy only bitcoins on these platforms. But no other crypto currencies.
How to use Localbitcoins anonymously?
Choose an anonymous payment method:
To use Localbitcoins, simply register on the platform. You can add the name and email address you want. And that's it, you can use Localbitcoins.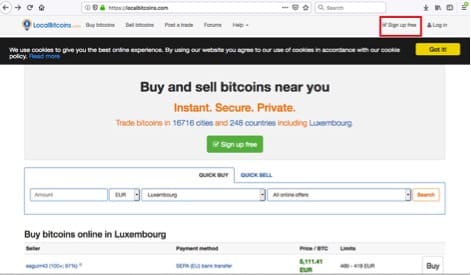 You will then have to choose a country, a national currency and a payment method.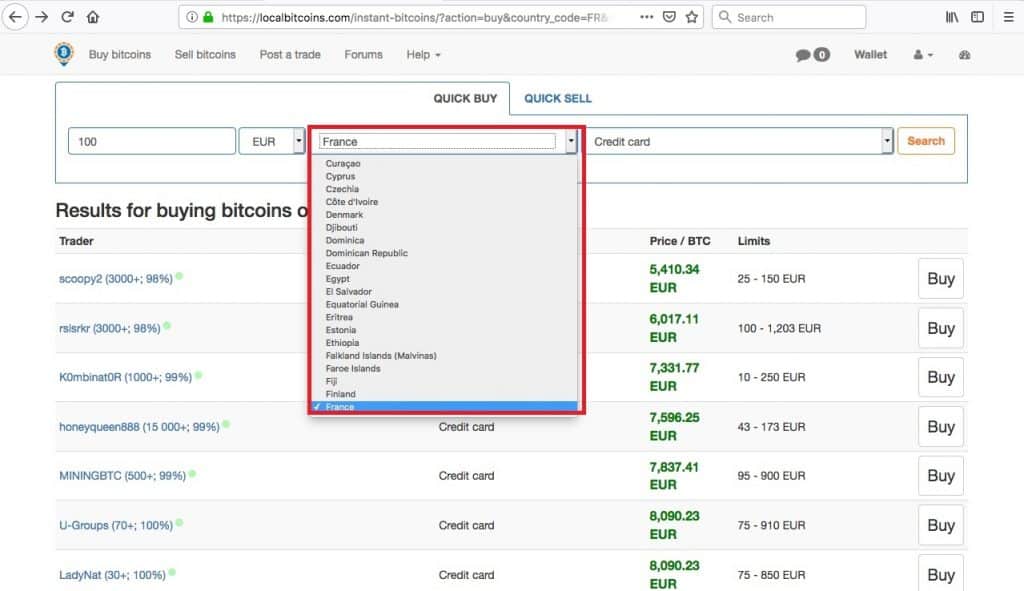 To purchase bitcoins anonymously, you will need to choose payment methods that do not require your original identification, such as a bank transfer or credit card payment. You can choose a payment in hope or through prepaid card like NeoSurf.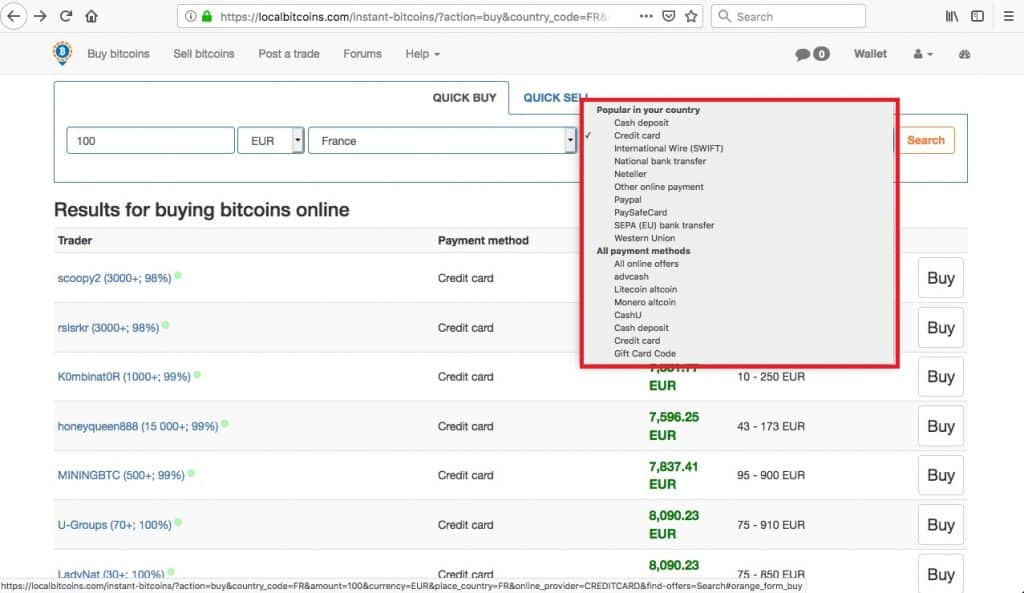 Once you have chosen these different options you will get a list of proposals for sale or purchase.
You can choose the one that suits you best.
Choose a seller / buyer who agrees to buy or sell anonymously
The price will not necessarily be the most important criterion. Indeed, the reliability of the seller or the buyer, as well as the proposed conditions will also be decisive.
As we have already mentioned, the role of LocalBitcoins is to ensure the security of the transaction. You therefore have information on the seller and the buyer and in particular a note on their reliability, the number of transactions made …
The conditions of sale or purchase differ from one offer to another. They describe the steps necessary to complete the transaction. Note that some sellers / buyers will require that your identity has been confirmed by the LocalBitcoins site, but not all.
You will need to follow these steps to complete the transaction. Also note that once the bid is accepted by the seller or buyer, bitcoins are pledged by Localbitcoins and will only be released once both parties have confirmed that they have completed their obligations.
In case of disagreement, a third party will be appointed to study the evidence and decide. Therefore, it is essential to only use Localbitcoins messaging to communicate with the seller or buyer.
AUTOMATIC BITCOINS DISTRIBUTORS
The concept of bitcoin distributors is the same as that of cash dispensers. You can buy bitcoins at a kiosk with a credit card or in cash.
Advantage of bitcoin vending machines
Simplicity: Although the operation of these terminals varies from one manufacturer to another, they are studied to be particularly simple. It is usually sufficient to follow the instructions.
Anonymity: No verification of your identity is required to use bitcoin distributors and you can use cash.
Disadvantages of bitcoin vending machines
Limited number of crypto available: in general you will have access only to bitcoins and in some cases to Ether and Litecoin. But the choice stops there. If you want to buy other crypto-currencies, you'll have to transfer your bitcoins to a crypto / crypto exchange.
Fees: The fees are higher than if you buy your cryptocurrency on an exchange. The service rendered by the distributor at a price (purchase and maintenance of the machine, rental of the location …) and you will have to pay for this service. These fees range between 6 and 10%, which corresponds to the fees charged by brokers like Coinhouse or Coinbase.
Maximum amount: You can buy or sell a limited number of bitcoins at the terminals (500 euros on average). Obviously nothing prevents you from having several different portfolios and repeat the operation for each of them.
Acheter des bitcoins sur un distributeur automatique
To buy bitcoins, you will need to have created a bitcoin wallet beforehand.
As you may already know, a bitcoin wallet consists of a public key and a private key. If we compare the payment in bitcoin with the credit card payment, the public key corresponds to your card number and the private key to your secret code. It is therefore essential to never divulge your private key otherwise it is like giving your crypto.
So you can disclose your public key without any problem in any form you want. By email, by QRcode where even in you tattooing on the arm.
This is your public key that will be asked when you use the distributor. It is strongly recommended that you use the QR code provided when creating your portfolio. The QR code is nothing else than your public key represented in another form. You can scan it directly on the distributor and avoid making a mistake by copying your public key.
To obtain this public key, you must have created a wallet that can accommodate your bitcoins. Note that the wallet you choose must accommodate bitcoins. If you buy Ether or Litecoin, you should also choose crypto-compatible portfolios.
Ideally you should choose a portfolio "Off the Internet" type Ledger Nano S which are the most secure. But they are not the easiest to handle. You can create an online wallet in 5 minutes by going to blockchain.info.
If you want to buy Ethers, you can choose a wallet like Myetherwallet which is free, fast, anonymous and secure. To learn more about creating a Myetherwallet portfolio, you can read our article Myetherwallet avis.
Once your portfolio is established, you can proceed to the purchase or sale of bitcoin, ether or litecoin.
Where to find bitcoin distributors?
You can visit «buybitcoinworldwide» which offers a map of all the bitcoin distributors in the world.
BUY BITCOINS AT A BROKER
A broker is an intermediary who buys wholesale bitcoins in order to resell them at retail. These are just simple resellers, as we currently know sellers of precious metals (gold, silver …).
There are a large number of brokers available today. The advantage of using a broker is usually the ease of use. On the other hand, brokers sometimes offer personalized advice for people who have difficulties with technology. This is particularly the case of the bitcoin house which offers appointments in their Parisian shop.
Obviously these services have a price and brokers normally take a large commission that can oscillate between 6% and 10% of the amount purchased.
On the other hand brokers are regulated and must verify your identity before you can sell cryptocurrencies.
Yet some brokers based outside the European Union, can buy crpyotmonnaies without checks. However, the amount of your purchase is almost always a limit to the number of bitcoins you can acquire.
You will find below a list of these brokers as well as their limits:
More on this topic
local bitcoins review – Read this before using [Full Guide 2019]
Bittrex review: Get access to almost all available cryptos
Follow me on Social media