LocalBitcoins could be compared to the "eBay of bitcoin". Bitcoins are indeed exchanged directly between the members of the network without passing through an exchange or a broker. Indeed, the platform only provides a secure environment for buyers and sellers to exchange bitcoins but does not hold any token itself. In this article ("Localbitcoin review"), we tell you all the steps necessary to use the platform safely.
This platform is used for several reasons:
The platform only links buyers and sellers of bitcoins and therefore charges much less than other methods.
It does not verify the identity of its users. The transactions are therefore anonymous.
All means of payment are accepted as long as the seller and the buyer agree. The fees applied by the seller however a lot depending on the means of payment used.
The platform can provide certain services such as pledging bitcoins for the duration of the transaction to ensure that it runs smoothly and to collect user feedback to rate recurring vendors.
A disadvantage of Localbitcoins is that you can only buy bitcoins. You can not buy other cryptocurrencies. This is not a major problem, however, since you only need to transfer these bitcoins on a crypto / crypto exchange like Bittrex, to acquire other cryto-currencies.
Register on Localbitcoins
You will visit the Localbitcoins website. As with all cryptocurrency trading platforms, you must be careful about the URL you use. In other words, you must make sure that the link you are clicking on corresponds to the official Localbitcoins website. The presence of a small green locker usually confirms that you are on the right site.

There are many scammers using google ad, ie google ads at the top of search pages to offer links to fraudulent sites.
If you have any doubts, you can use the link below:
Once on the Localbitcoins homepage, it is extremely easy to register. You just have to click on "sign-up free".
Insert your details (exacts or not)
A window will open and you will need to fill in the required information.
You must enter the name that will appear on the site and your e-mail address. Note that you do not have to add your exact last name and last name. Localbitcoins allows to buy and sell crypto-currencies anonymously, so you can invent a nickname and add an email address created for the occasion.
A tamper-proof password
You are also asked to choose a password that is complicated enough to make your account really secure. The best way to get one is to create it from a platform generating passwords like strong Password Generator.
As a first step, simply choose the password settings. That is, the number and type of characters you want to embed.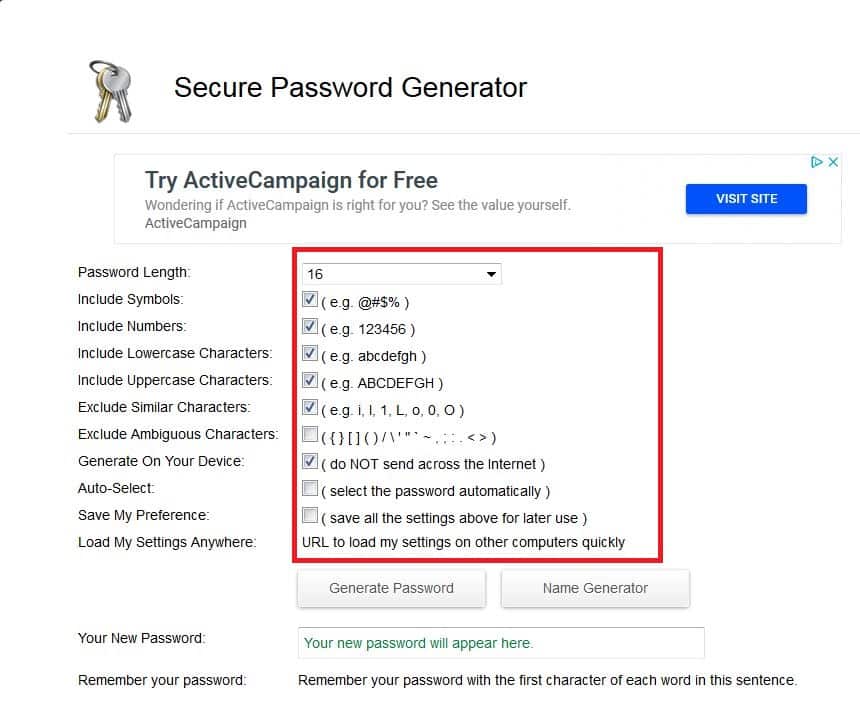 You will then be able to generate the password by clicking on "Generate Password".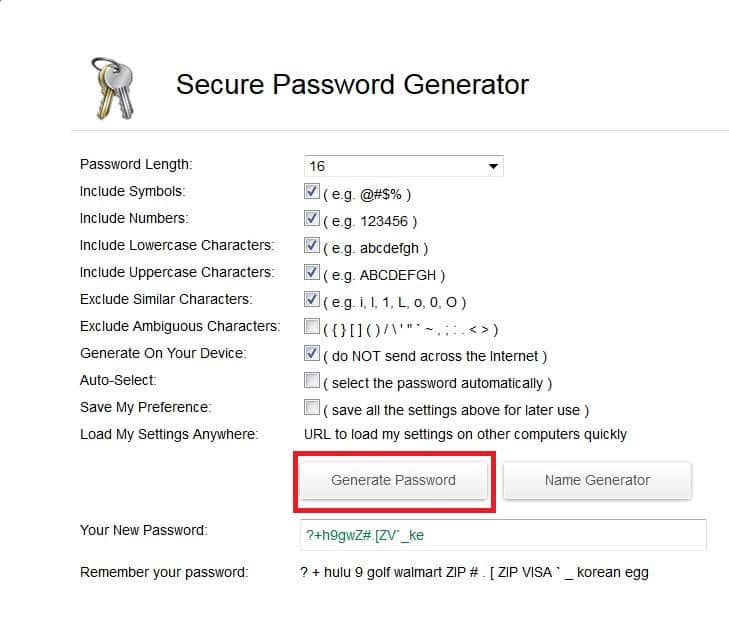 Once you have your password you must save it in a safe place on your computer or write it on a paper.
I emphasize this because it is important to understand with the cryptos that you will acquire are your responsibility. Crypto-currencies bring great freedom by eliminating a large number of intermediaries such as banks and credit card companies. But that means that you are now in charge of the safety of your money. However, you should be particularly careful when buying, transferring and keeping your cryptos. That's it, you have to be vigilant all the time.
Rest assured, getting started is easy and today there are many tools that allow you to use cryptos securely. On the other hand, it is not certain that your money is more secure when it is in the hands of intermediaries.
It is also important to realize that Localbitcoins is not the most secure way to acquire bitcoins. We will describe all the elements that you need to be careful about to take no chances.
Two factor authentification
For this reason, it is essential to enable the two authentication option. This type of protection is now well known and adds a layer of security to your account. For each operation you will solve on Localbitcoin, you will need to add a code.
To activate it, you must click on "Account Security".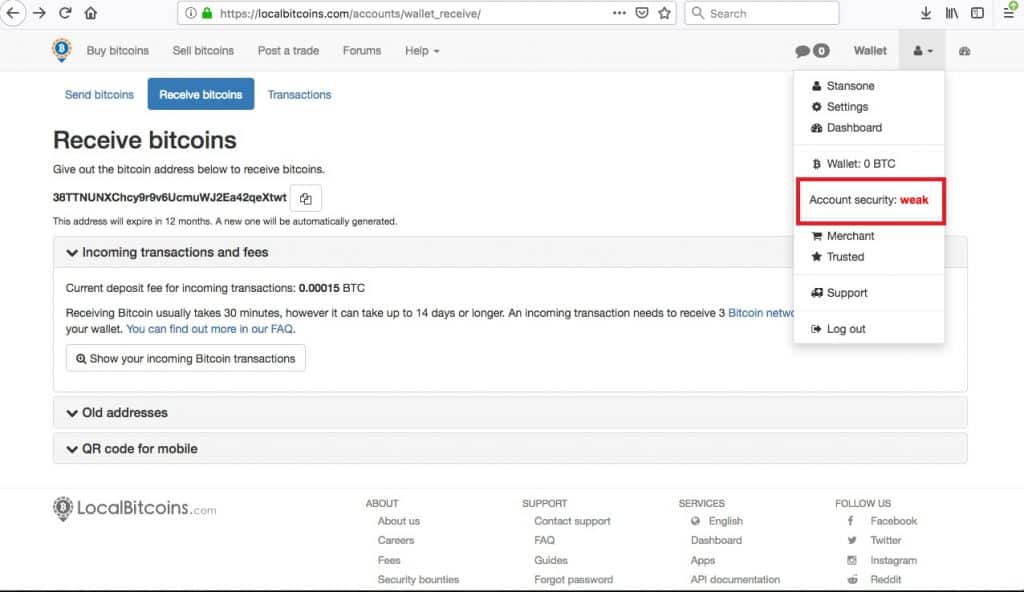 Then ask to activate the "Two Factor Authentication".
You will then be able to choose the means of issuing your code. Either on your mobile or on a separate page.
If you choose the paper code, you will be able to download a word page containing 100 codes numbered from 1 to 100. For each operation, you will have to provide a random code.
If you choose the mobile code, you will have to download the "Google Authenticator" application on your mobile. You will then have to configure your application by clicking on "Proceed to activation" which will reveal a QR code that you will have to scan with your mobile phone from the "Google Authenticator" application.
Opening of a wallet
By opening an account on the Localbitcoin platform, you open a bitcoin wallet instantly. You can use this portfolio without buying bitcoins on the platform beforehand.
The charges for depositing bitcoins are 0.00015 BTC regardless of the amount you transfer.
Again this is not the most secure kind of bitcoin wallet. This is indeed what is called a "hot wallet". This type of wallet is convenient because it is accessible on the internet from any computer, but you do not hold your private keys. In other words, the secret code that allows you to use your bitcoins (your private key) is kept by the website and therefore at the mercy of any potential hacker. So ideally do not leave your bitcoins too long in this wallet and transfer them to cold storage. As a reminder, with portfolios of cold storage (Ledger, Trezor …), you keep your private keys off the internet on a device that looks like a USB key.
Receving bitcoins
To receive bitcoins on your Localbitcoins portfolio, simply use the public address that is provided on the Localbitcoin site. Note that this is your public address, that is to say that you can disclose it without risk. The public address can be compared to your blue card number and the public address, your PIN.
It is important to transmit your public address without errors. Indeed if the public address that you transmit is not complete, you will not be able to receive your bitcoins and the person who sent them will not be able to recover them. For this reason, the best is to use the button provided for this purpose next to your public address.
A good habit is to copy this address to another document and have it in your mailbox, for example, to be able to easily send it to people who must send you bitcoins without having to connect to Localbitcoins each time.
Another important point to consider is that the public address issued by your Localbitcoins wallet will change periodically. Of course, you can continue to use the previous public addresses at the same time as the news and you will always receive bitcoins in your wallet.
Send bitcoins
It's just as easy to send bitcoins from your Localbitcoins wallet than it is from any other wallet. It's just about introducing the public address of the recipient of the bitcoins, as well as the number of bitcoins you want to send.
Be careful to add all the data that is required by the recipient.
Buy bitcoins on Localbitcoins
Choose an offer
The great advantage of Localbitcoin is that it is not a centralized platform. In other words, the platform gives sellers and buyers the freedom to organize the transaction as they want.
They are first free to choose the currency they will use to determine the amount to buy. If you buy from a person based in the EU, it is likely that the euro is chosen. But this is not always the case and the dollar is often used as the reference currency.
You will then be able to choose the country where you want the transaction to take place. This field is especially important when you choose the option of payment in cash or bank transfer. Indeed, the geographical proximity with the seller is in this case important. For example, if you decide to pay by bank transfer and your seller is also in the EU, you will be able to use a SEPA transfer and therefore not pay any fees. Which would not be the case if you had to make a bank transfer to a bank based in the United States.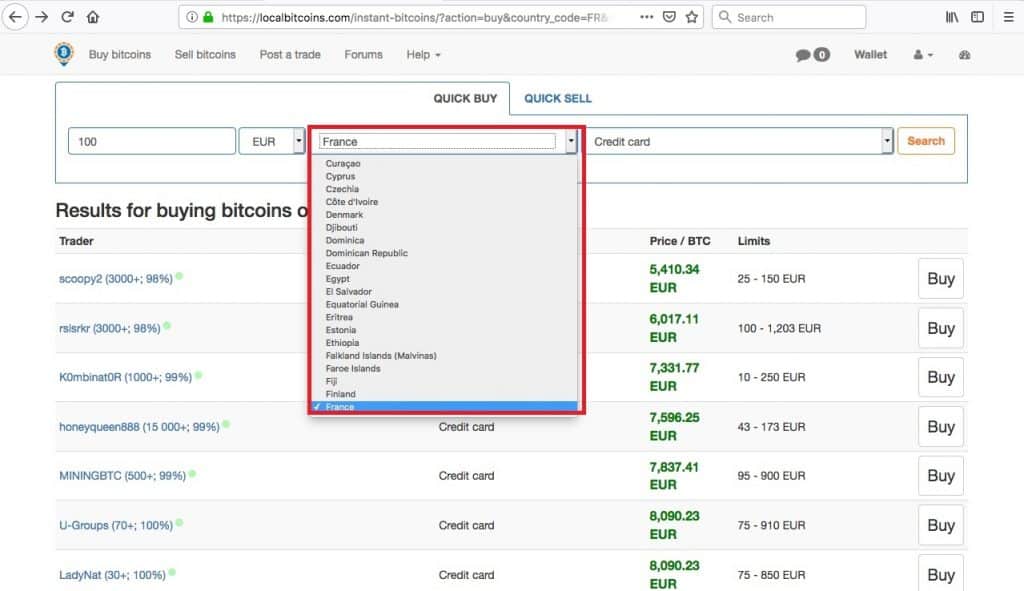 Finally, LocalBitcoins is renowned for offering the ability to pay with almost all available payment methods. Just find a seller who uses the payment method you want. We will now see below how the most commonly used means of payment work.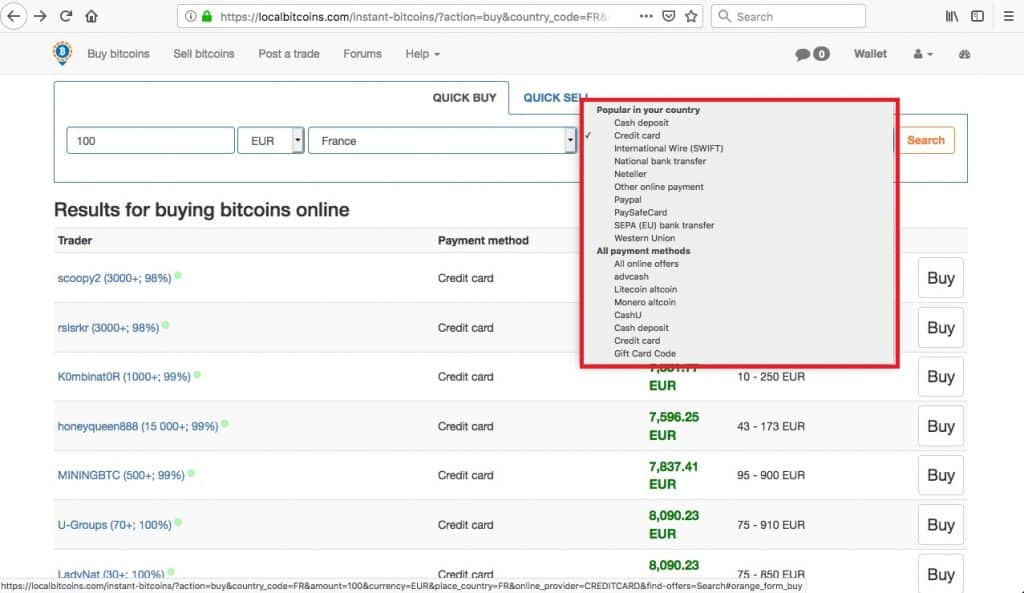 Once you have selected these three variables, you will see a list of sellers responding to these criteria. You can quickly sort the offers according to what interests you.
This information is as follows:
Trader: This is of course the seller's preudo. As for you, the seller is not obliged to reveal his true identity. The two digits in parenthesis located next to it, correspond to the number of transactions realized by the salesman and the score that attributed to him by his previous customers.
In the example above, the seller has completed more than 3,000 transactions and has a 98% satisfaction rate. So you have to go to a serious seller.
Payment Method: This column refers to the payment method you selected in the previous step.
Price / BTC: as you will understand, this is the price per bitcoin. The lower you go, the higher the price. It is important to note that the price of Bitcoin on LocalBitoins, can be very different from the price you will find on reference exchange such as Bitstamp. This price difference is due to the often unconventional means of payment used by the sellers. In other words, you pay the service provided by the seller who offers the means of payment that suits you. This means of payment is generally not available on traditional exchanges.
Limits: These numbers correspond to the minimum and maximum number of bitcoins that the seller is willing to offer you. In the example below, the seller is ready to sell you at least 25 and up to 150 euros of bitcoins.
It's up to you to choose the offer that suits you best.
Identify good sellers
Once you have made your choice, you will be able to obtain additional information about the seller by clicking on his name. You will go to the seller's presentation page where you will have access to additional information.
First information about the reliability of the seller with the number of stars allocated to him, the number of trades made and feedbacks that we have just described. You will also be able to determine the frequency of its sales. Suspicion if he has not made a sale for several months.
Finally the speed at which you will get your bitcoins once the transaction has been completed.
It is also important to consider when the seller's account was created and if its identity was verified by LocalBitcoin.
Note that some vendors may also claim that you have validate your identity.
In the example below, you will also see all the offers currently offered by the seller. This also allows you to see all the payment methods accepted by the seller and perhaps choose one that suits you best.
Finally, at the bottom of the seller's page, you will be able to access the notice of previous buyers. Naturally, the more recent they are, the better. These reviews are interesting because they sometimes allow you to get information about the process of completing the transaction. It will appear in some cases that it is too complicated.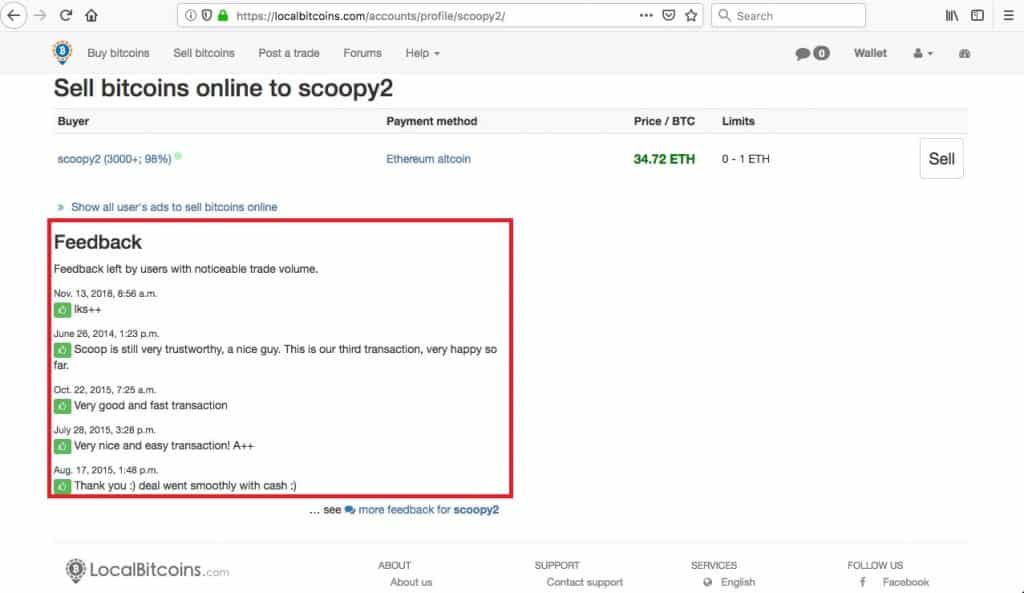 The transaction steps
How to contact the seller?
Once you have chosen the offer that interests you, you will be able to send a message to the seller using the space provided for this purpose in the offer. It is recommended not to use external communication channels. Indeed in case of dispute, it will be easier for you to prove your good faith if you used the Localbitcoin messaging system.
Follow the steps prescribed in the offer
On the right side of the offer, the seller can specify the conditions that you need to fulfill for you to be eligible as a buyer. It can also provide guidance on the steps to complete the transaction.
These steps are always different from one seller to another and from one type of payment to another.
Bitcoins are pledged
In addition to an evaluation of sellers (and buyers), LocalBitcoins offers a bitcoin pledging service to ensure that transactions are completed to the limit by significantly reducing scams.
The bitcoins that the seller proposes to sell you are in fact retained by the site until the seller confirms that he has received the payment.
In case of dispute, a trusted third party belonging to Localbitcoin will decide according to the rules established on the website and according to the reputation of the seller and the buyer.
The fees applied by LocalBitcoins
As we have already mentioned, LocalBitcoins is a platform that connects buyers and sellers of bitcoins. It offers only a secure environment for buying and selling bitcoins, but does not hold bitcoin itself. This limited risk-taking allows LocalBitcoins to offer uncompromising fees.
There is indeed no charge on buyers and only 1% on sellers. We are far from the 4% imposed by brokers like Coinbase. Note that sellers generally pass on sales charges, which is why Localbitcoins prices are higher than on traditional exchanges.
The main methods to buy bitcoins
Buy bitcoins in cash
For cash purchases, you can do them either in person or through a pre-paid card.
If you are in the same geographical area as the seller, you can meet him. Just make sure that it releases bitcoins well before your eyes. Otherwise it would be difficult to prove that you gave him the funds.
Neosurf or PCS prepaid cards seem a better solution. You usually only need to provide the code on the card to complete the transaction.
Buy bitcoins with a credit card
Buying with a bank card is relatively simple. Once you have chosen an offer that interests you, you will contact the seller. Remember to use Localbitcoins email at the bottom of the sales page. In case of conflict, it will indeed be easier to prove your good liver.
The seller will then send you the details of his account. You will make the transfer and upon receipt of payment, it will indicate to Localbitcoins that bitcoins can be sent to you. In most cases, as in the example below, the seller will wait for funds to be credited to his account. So it's not surprising to have to wait a day or two before you receive your bitcoins.
Buy bitcoin with Paypal
As you can see in the example of an offer to sell bitcoins with Paypal, the purchase conditions are much more restrictive than for other means of payment that you can use on LocalBitcoins. This comes from the fact that Paypal is perceived right or wrong as an unsafe way of payment. The sellers consider indeed that there is a possibility to convince Paypal to return to the transaction once it has been done on LocalBitcoins.
It is not uncommon for sellers to ask you:
your exact identity and verified on LocalBitcoins
request SMS verification
A verified Paypal account
A personal Paypal account that corresponds to that of LocalBitcoins
The money must already be on your Paypal account
You must have already completed a number of LocalBitcoins
transactions and obtained positive feedback.
Buy bitcoins with other crypto-currencies
Among all the methods that are offered, you can also use some altcoins to pay the seller. At present, only Dash, Ripple, Litecoin, Monero and Ethereum are usable.
The process is then the same, you will transfer your altcoins to the public address that you have provided the seller and upon receipt of the tokens, it will release bitcoins.

More on this topic

How to buy bitcoins and altcoins: the ultimate guide
Bitcoin Value in Dollar – how to analyze and predict it? [Ultimate guide 2019]
Follow me on Social media