The Platform
Are you interested in buying or selling any cryptocurrency? There are a few cypto exchange platforms that you can consider. You could now be facing the problem of many choices. Binance is one of the many crypto exchange platforms that we have today. It is the most popular crypto exchange platform in the world today. It is the leading crypto exchange platform in terms of trading volume. In this Binance review, you will know why you should choose Binance as the platform for exchanging cryptocurrency.
Binance was founded by Changpeng Zhao in 2017 and rose to prominence due to its ability to support a wide variety of cryptocurrencies. It is one of the most reliable and fastest crypto trading platforms that we have today. Binance became worth more than $1 million in less than a year, which made it one of the first few companies in the cryptocurrency industry to achieve the "unicorn" status. The platform offers very competitive rates. In this article, I will give you a deep and thorough Binance review to make it easy for you to trade cryptocurrency on the platform.
Inscription on Binance?
This is the first step before you can begin to use the platform, hence we had to discuss it in this Binance review. Follow the steps given below to join Binance for free:
Opening the home page of the Binance website. Here is the URL:
Click the Register button located on the top right of the home page.
You will be taken to the registration page in which you will be required to enter your personal details including your email address and password.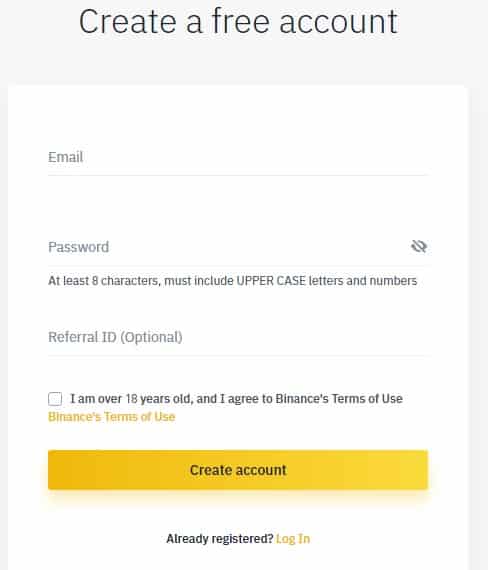 Enter the details and click the checkbox to agree with the terms of use. Click the Create account button.
Verify your email address by clicking the Go to email and verify button.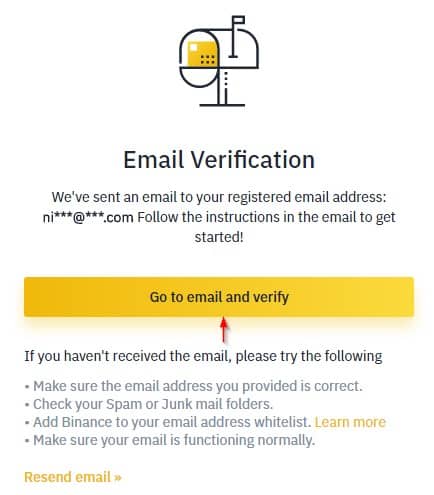 Open the email that has been sent to you by Binance and click the Confirm registration button.
A new tab will be opened. You will be notified that verification was successful Click the Log In button.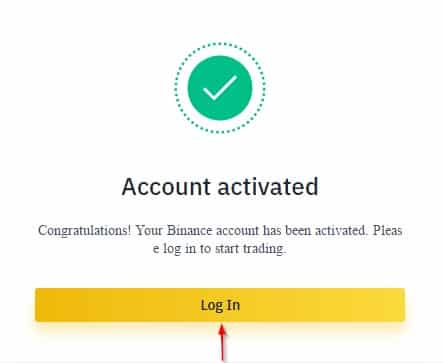 You will be taken to the Binance login page.Enter your email address and password and log into your account by clicking the Login button.
You can answer the quiz or skip to answer them later. You will be taken to the dashboard of Binance exchange platform.
Now that you have created your account, you can begin to use it to trade cryptocurrency.
How to use the platform?
In this section of the Binance review, I will guide you on how to use Binance. You will know how to open an account and exchange crypto.
Funding your Account
Your Binance account should be funded before you can begin to perform transactions. There are various through which you can fund your Binance account, but in this Binance review, we will use a credit card. Follow the steps given below:
On the home page of your Binance account, point the Wallet dropdown from the menu bar using your mouse cursor. Choose Deposit.
On the new page, click Buy BTC & ETH with credit card now.
You will be able to purchase binance bitcoin or eth using your Visa or Mastercard credit card. Specify the type of cryptocurrency you need to but, the amount and select whether you will pay with US dollar or euro.
You will be required to confirm your billing information, email address and your identity.
How to Trade?
Binance provides you with two options for trade setting, Basic and Advanced. If you are a beginner, you should start with Basic.
The Basic option will provide you with a simple layout that is easy to understand. You will only see the information that is important for trade. It won't take you long to grasp how to use Binance with this setting.
The Advanced setting is for expert traders. They can access market data, trade charts and venture into complex trades. Here is how to place a trade in the Basic setting:
First, open the Binance login page and log into your Binance account.
Click the Exchange taskbar then choose Basic.
Select a trading pair. On Binance, you will get hundreds of trading pairs. The kind of crypto you fund will determine your trade. The change can be done on the right side of the window as shown below:
Select the type of trade you need to place. Binance provides you with three types of trades:
Limit orders: this will allow you to set the maximum price you are willing to pay for coins or the minimum price you are willing to sell the coins for. The trader will have to wait for a buyer or seller to accept their price.
Market orders: this will allow you to trade coins at the current prices in the market. It is a simple and fast trade.
Stop-limit orders: this will allow you to sell or buy a coin after it has reached a specified price.
Select the amount that you need to trade. Click the Market tab then enter the amount that is to be bought.
Lastly, you can click the Buy … button. You will have become a Binance crypto trader!

What are the fees?

If you need to maximize your returns when using binance, pay attention to the following fees:
Deposit Fees
Binance will not charge you any fees to deposit any cryptoasset. If you have fiat currency, you should first swap it for crypto on a cryptocurrency exchangeplatform like Coinbase. After getting your crypto, you can deposit it on your Binance account for free.
Trading Fees
Once you have deposited some crypto into your Binance account, you are ready to trade. However, the trading fees determines the amount of returns that you will get from your transactions, hence we have to discuss it in this binance review.
Binance will take a percentage of every trade that you make, similarly to other centralized platforms. The percentage charged is determined by two factors:
Whether you have BNB tokens and how much you hold.
Your trading volume for 30 days.
Binance charges a fee of 0.1% for makers and takers. When you pay fees with BNB, you get a 25% discount. If your account holds BNB, Binance will use it by default. However, Binance allows you to turn this setting off.
Increasing your trading volume will lead to a reduction in Binance fee. This is because a bigger trade volume translates to a bigger discount. Binance offers 8 levels of discount, with each level requiring you to have a certain number of BNB in your Binance account.
You only get a reduction in your taker fee when you reach the third level (VIP 3). This level requires you to have not less than 4500 bitcoin in your account.
Withdrawal Fee
It is recommended that you take off your crypto from Binance as soon as you can. When making a withdrawal from Binance, a flat fee is charged on the asset you are withdrawing. A different amount of fee is charged for different assets. For example, to withdraw any amount of ether, you will be charged ETH 0.01. For majority of the assets, the withdrawal fee is one-half the minimum amount that can be withdrawn.

Binance wallet

A Binance wallet provides you with a secure place to score your crypto. A wallet can be a hardware, software or a paper wallet. Software wallets are popular because of the convenience associated with their use. Each crypto wallet is identified by two keys, the private key and public key. The public key is the address of the wallet. Other crypto traders will use it to send you money. This means that the public key can be disclosed to the public. The private key grants authorized access to the wallet. This means that it should be kept private.
You can access your wallet from top menu on the home page of your Binance account.
When you point at the dropdown menu, you will see various options including Balance, Deposit, Withdraw etc. You can choose any of these options based on the action you want to perform.
You can create a wallet on Binance DEX and it will allow you to store private keys on your own. To create the wallet, visit the following URL:
Click the Create Wallet as shown below:
You will be guided through a sequence of simple steps to create the wallet.
Binance app
The goal of Binance is to make it easy for crypto traders to trade cryptocurrency on their exchange. That is why they have developed a mobile app, for both android and iOS devices. You can use the Binance app to buy cryptocurrency such as Bitcoin. The app comes with the live chat feature.
The Binance app provides you with the fastest and simplest way to buy and sell crytocurrency using your mobile device. The crypto trading app has Binance crypto margin trading. The trading app will connect you to a matching engine capable of supporting 1.4 million transactions per second. This will ensure that trade runs smoothly on various cryptocurrency markets.
With the Binance app, you can trade a wide range of cryptocurrency including Bitcoin Cash (BCHABC), Bitcoin (BTC), Ethereum Classic(ETC), Ethereum (ETH), Ripples (XRP), Basic Attention Token (BAT)*, Litecoin(LTC), Zcash (ZEC)* TrueUSD, USDT, 0x,(ZRX)* and USD Coin (USDC). It also supports many other altcoins, meaning that you can trade them from your mobile device.
The Binance app has made it easy for you to keep track of your digital assets. It allows you to view live trades and check your account. You get an easy access to live prices and tools such as charts at any time of the day.
Their customer support team is dedicated towards helping you solve any issues that may arise when using the app. You can contact them using the live support feature or by sending them an email.
Binance coin

Binance coin, abbreviated as BNB is the coin used on the Binance platform for payment of fees. This makes it an important topic of discussion in our Binance review. Many businesses are now accepting Binance coin as a form of payment. When you pay Binance fee using the Binance coin, you get a discount.
Binance coin was introduced during the period between June 26th and July 3rd, 2017 through ICO (Initial Coin Offering). 11 days after the launch of Binance coin, the Binance Exchange was opened for trading.
The Binance coin was used on the Ethereum network with a supply of up to 200 million coins. The ICO received a total of 100 million coins, but this amount has reduced as a result of periodic coin burns.
There are various use cases of the Binance coin. For instance, you can use it to buy virtual gifts, pay travel expenses etc. But how can Binance coin help you when trading crypto on Binance?
When trading on Binance, one incurs a fee of 0.01%. To pay for this fees, you can use either the assets that you are trading or Binance coin. Paying with Binance coin has an advantage in that you will receive a discount on the trading fees.
What does this mean to those who trade regularly on Binance? It will be good to get more Binance coins and use them for fee payment.
Btc_usdt Binance
Tether (USDT) is a cryptocurrency whose cryptocoins that are in circulation have to be backed by a traditional fiat currency. The amount of the cryptocoins in circulation and the amount of fiat currency backing it must match. Examples of fiat currencies include the Japanese yen, US Dollar, euro etc. Tether tokens, which are the native tokens for Tether network, are traded under the USDT symbol.
Tether is in a new breed of cryptocurrencies given the name stablecoins with a goal of stabilizing cryptocurrency prices. Cryptocurrencies such as Bitcoin and Ethereum have shown wide swings in prices. Since this is not the case with Tether, it is suitable for use as both a medium of exchange and mode for value storage. Other cryptocurrencies can only be used for speculative investments.
Tether was developed to create a bridge between cryptocurrencies and fiat currencies and offer transparency, stability and reduced transaction charges. Its value has remained at 1:1 in relation to the US Dollar. However, no guarantee has been provided for us to exchange tether for real money such as US Dollars.
On Binance, you will get the biggest Bitcoin exchange by volume. They will allow you to exchange your BTC to USDT at favorable prices. Binance provides the biggest Bitcoin exchange in the world. They provide you with price tables showing the price relationship between Btc and USDT. You will also get price charts showing the price fluctuations over a specified period of time.
Binance pro

The Binance pro is the right tool for you to automate your Binance tasks. It will make it easy for you to trade when tired, busy or when you are asleep. It is the best tool to relieve you of sleepless nights. The tool can be accessed on the following URL:
With the Binance pro trading tool, you will get a safe trading. It will allow you to place Stop loss and Take profit orders at once. Your task will be to place your order and their bot will take care of the rest. It is capable of taking care of Stop loss, Take order and Trailing Stoploss. The Binance pro trading tool comes with simple user interface, making it easy for you to carry out your tasks.
The tool comes with a profit trailer, hence, you will be able to make as much profit as you can. The good news is that you don't need any special skills so as to configure it. This is not the case with other trading bots and automate strategies.
Isn't it amazing for you to trail your profit without having to log into the exchange? This is now possible with the Binance pro trading tool. You will be able to see the amount of profit that you have made overtime. You will then determine the necessary actions to take to improve the profits.
Referral bonus can help you boost your online profits. The Binance pro trading tool will give you some bonus for any new member that you refer. The tool can also be used on any device that has a web browser. You don't need to have a virtual private server (VPS). Just sign up by opening the above URL and begin to use the tool. They will require you to enter your Telegram username so that you may receive instant notifications for any orders. The tool offers a 7-day trial period. After that, you will have to make a monthly payment of 0.01 BTC.
Binance chart
A good Binance review must include a discussion on the Binance chart. Binance provides basic charts with a larger amounts of crypto coins for trade compared to other platforms.
To see the Binance chart, log into your Binance account and hover over the Exchange tab. You will see two options, Basic and Advanced.
A basic trading is as shown below: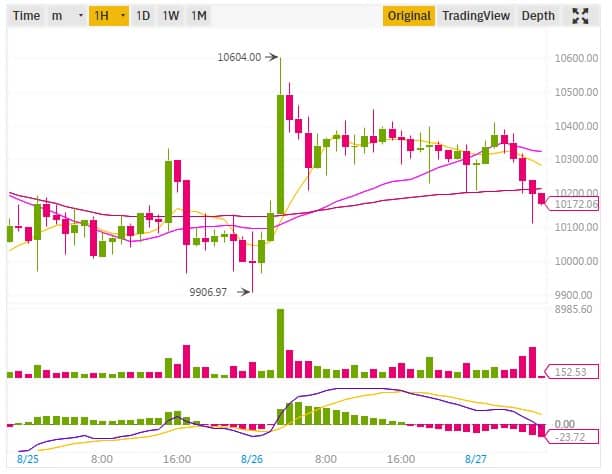 An advanced trading chart is a shown below:
The advanced chart is a bit harder to read compared to the basic chart. Here are the major parts of the chart:
Let us discuss the items that have been numbered:
This is known as the trading pair tab. We are currently looking at a BTC/USDT chart. The chart is for trading Bitcoin against Tether. You can choose another pair by clicking the dropdown and all pairs will be shown.
This is the time scale or the time signature and it is very good for trade. If you change this, the time represented in the candlestick will change. The small m is for minute. The H is for hour, and it is marked as 1H which means 1 Hour. 1D is for 1 day, 1W is for 1 week while 1M is for 1 month.
This is the order book. It shows the list of all current Buy & Sell orders that await to be filled. The orders have been placed by people but are yet to be completed.
These are orders that have been executed and filled recently. This section makes it easy for you to benchmark your trade. You can see your most recent orders then plan for your buying and selling.
These are volume bars. They correspond to the time signature that you have selected. They show the amount of the crypto that has been traded over that period of time. The volume gives you an indication of the chances of you finding a buyer or seller for the crypto.
Pros and cons of the platform

The Binance platform is has made the exchange of cryptocurrency easy by providing the latest technology. This has made it the leading platform for crypto exchange in the world.
Here are the pros of the Binance exchange platform:
It supports a wide array of cryptocurrency pairs to trade.
It charges a lower fee compared to other exchanges. The platform takes only 0.01% of every transaction that you, which is a reasonable amount. The payment of the fees has been made easy since you can use BNB for this. In such a case, the fee will not be deducted from your trading balance.
Has a simple interface friendly to beginners.
Transaction can be completed faster due to the high speed of the platform. The platform can support up to 1.4 million transactions per second.
Supports a wide variety of devices including Android, web browsers, HTML5 and others.
Has a very stable mobile app.
One can create an anonymous account and get a generous limit.
Users get discount for payment of fee using the Binance coin (BNB). This is because BNB is the native coin for the platform.
Here are the cons of the Binance exchange platform:
The platform does not support fiat currency. This means that you cannot fund your Binance account using fiat currency.
It has a relatively low liquidity that resulted from regulations by the Chinese government.
You only have access to limit and market orders.
The buyback policy may reduce the prices. The BNB developers are planning to buy back a particular amount of the coins. This will cause a reduction in value, and the prices may diminish.
BNB is limited to Binance exchange. This means that it will be affected greatly by the performance and reputation of the exchange.
Follow me on Social media