Bittrex is an exchange based in Seattle in the United States. It was founded in 2013 by a former Microsoft security specialist. The purpose of this article "Bittrex Reviews" is to offer you a complete guide to use one of the best crypto buying platforms at the moment.
If you're new to crypto exchanges, you should check out our complete guide to these bitcoin exchanges. This will allow you to choose the exchange that is most appropriate for you.
Bittrex review in a few words
Bittrex is one of the best known exchanges because of its large volumes, the large number of cryptos that are listed and its reliability in terms of security.
A "crypto-to-crypto" exchange
Until June 2018, Bittrex was called a "crypto-to-crypto" exchange, ie it was only possible to deposit crypos and not national currencies. It is now possible to deposit dollars on Bittrex subject to having passed the verification tests.
Multiple levels of authentication
Bittrex also has several levels of authentication: "unverified", basic and "enheanced". These three levels provide access to different trading and withdrawal volumes. In addition, you will need at least one "enhanced" verification level to deposit US dollars on Bittrex.
If you want to use Euros, you can buy your first cryptos on a "fiat-to-crypto" exchange, such as Bitstamp or Kraken, and transfer these cryptos to Bittrex to access a much larger panel.
Provides access to its API
Bittrex is particularly popular with professional traders who typically use custom trading platforms that are set up for algorithmic trading. Indeed Bittrex offers access to its API that allows high frequency trading.
Another important point is that Bittrex is actively working with the US regulatory authorities. The goal is to stay in line with the ever-evolving market rules.
This is largely why Bittrex is the first platform to have received the New York Bit License. This license is a certification proving the reliability and reliability of Bittrex.
Availability of Bittrex
Although Bittrex is registered in the United States as a Broker, it is not available in a number of US states. A complete list of countries in which Bittrex is accessible to be found in section 2 of the "Terms and Conditions" of the exchange.
It should be noted that the conditions of verification may vary from one country to another.
Fees
Trading fees
A commission of 0.25% is imposed on each transaction, whether you are a "Maker" or "Taker". We describe the difference between "Maker" or "Taker" in our article on "Cryptocurrency Exchanges".
Deposit and withdrawals
Bittrex does not charge a fee for crypto deposits and withdrawals, which facilitates movement between the exchange and your cold wallet. It is recommended that you do not keep all your crypto currencies on an exchange.
It should be kept in mind that fees can also be attached to the cryptocurrency themselves. For example, for every bitcoin transaction minors charge a fee to add your transaction in blocks and blocks to the blockchain. These fees may be higher or lower depending on demand. These fees are systematic and are not collected by the exchange.
It is also important to note that your withdrawal capacity depends on your level of verification on the exchange:
Unverified: With an unverified account, you can only withdraw 1 bitoin per day or its equivalent.
Basic: By subscribing to the dual authentication option, you will switch to the basic level and remove 2 bitcoins per day or equivalent.
Enhanced: "Advanced" accounts allow you to withdraw up to 100 bitcoins per day or equivalent.
After sales service
Bittrex offers a Zendesk on which you can submit your tickets. You can follow the progress of your request by registering on their support page. Bittrex also offers a fairly complete FAQ that can answer many questions. It is also possible to submit your questions on Slack, Twitter and Facebook.
Opinions are mixed as to the response speed of the after-sales service. For some it is the fastest of all exchanges and for others much too slow. Difficult to get an idea, mails it is likely that it largely depends on the level of affluence on the site. In case of high volatility as was the case during the last quarter of 2017, we should not expect an immediate response.
I have never had a problem with Bittrex since I use it (3 years), so I can not comment on the subject.
How to join Bittrex?
Register
You will start by registering on the Bittrex website. Once you have entered your email address and password, you will receive a confirmation e-mail that may take a little while. So do not panic if you do not receive it immediately.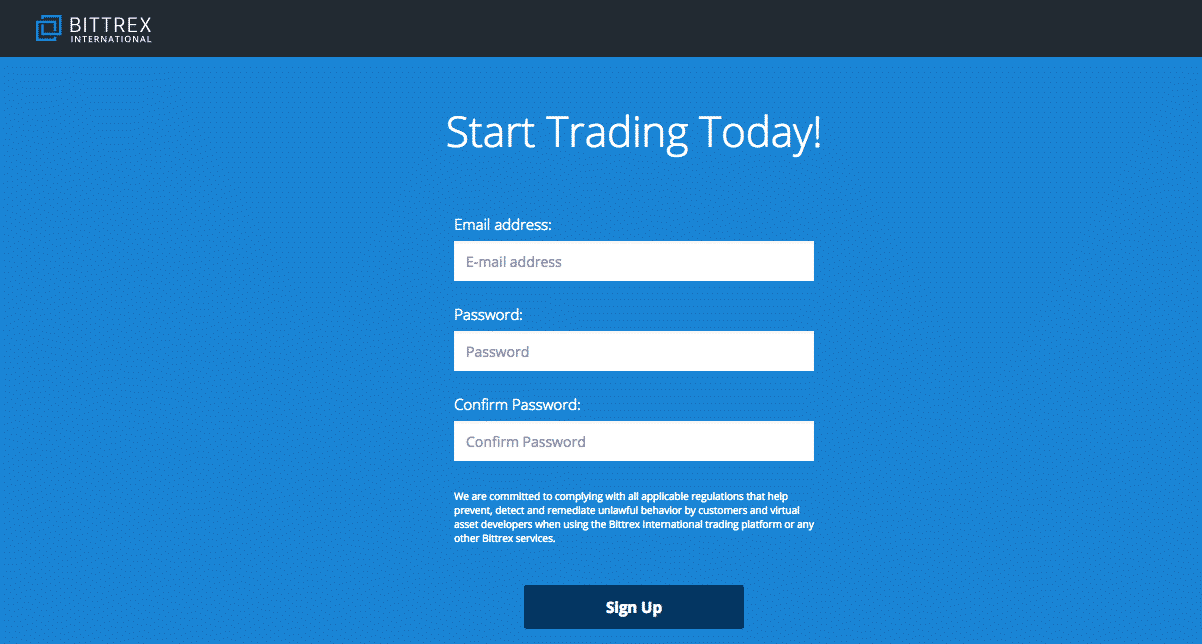 If you are looking for Bittrex via Google, be careful that this is the original address of the site. Indeed, it is not uncommon to see scams use Google Adwords (paid links at the top of the search page) to promote fake links.
A strong password
Another important point is that you must use a password that is strong enough. For this you can use a site that will generate a password for you as "Password Generator".
Double authentication mechanism
Once you are on the site, do not forget to secure your account with a dual authentication mechanism. This is a well-known mechanism, where a code is sent to your mobile phone once you have entered your password. You must enter this code to verify that you are the owner of the account.
To do this, simply click on the "Setting" tab at the top right of your screen and then choose the "Two Factors Authentication" tab.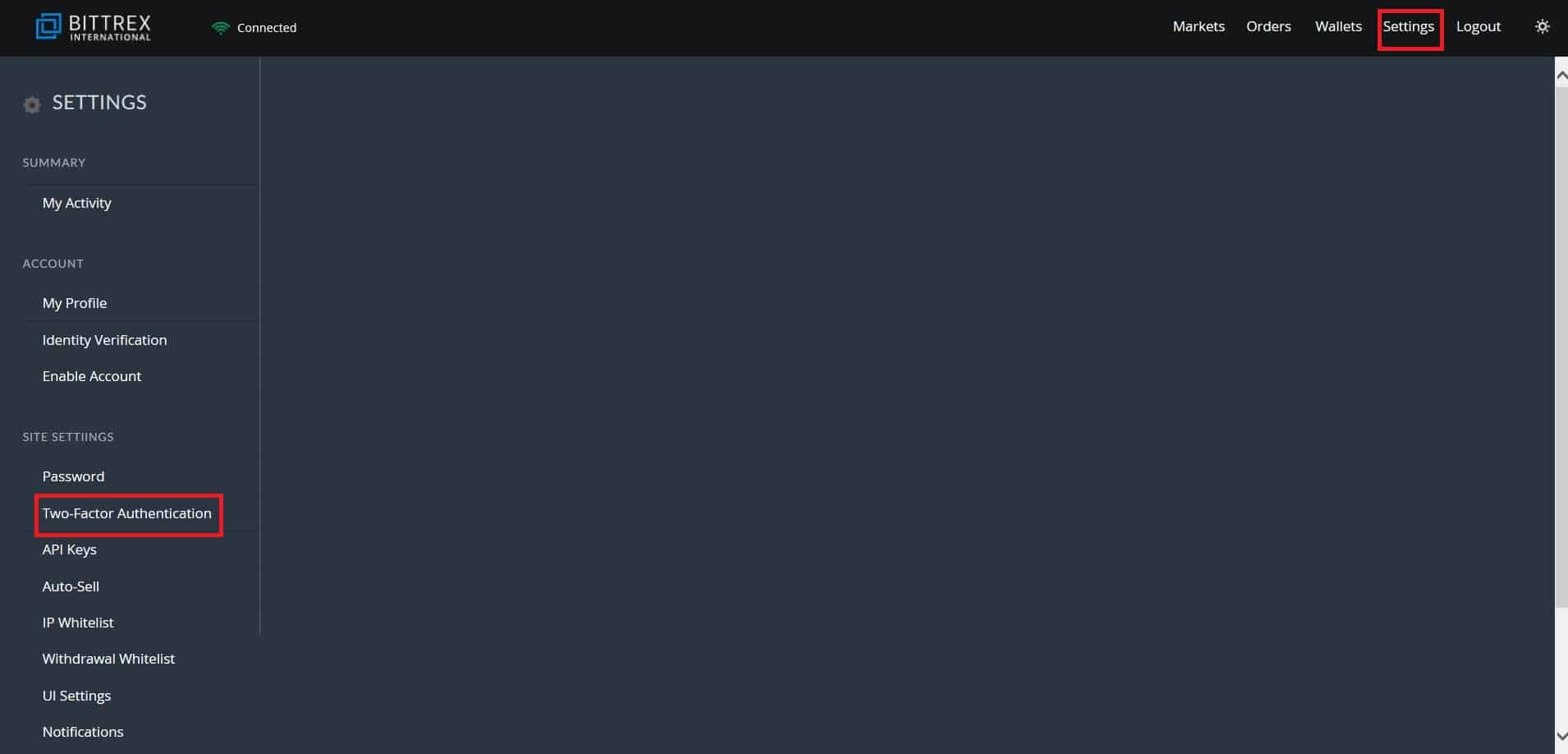 Then just follow the instructions. It will normally download an application on your mobile and scan a QR code.
Send cryptos on Bittrex
Once your account is registered, you can send cryptos to your account from your wallet or from any other exchange.
To do this, simply click on "Wallet" at the top right of your screen.
Choose a crypto
You will land on the page below. You will then need to choose the type of crypto you want to transfer. For example, if you want to transfer ether, you are going to type ETH or Ether in the small red box, which will show the line relating to the Ethereum portfolio below.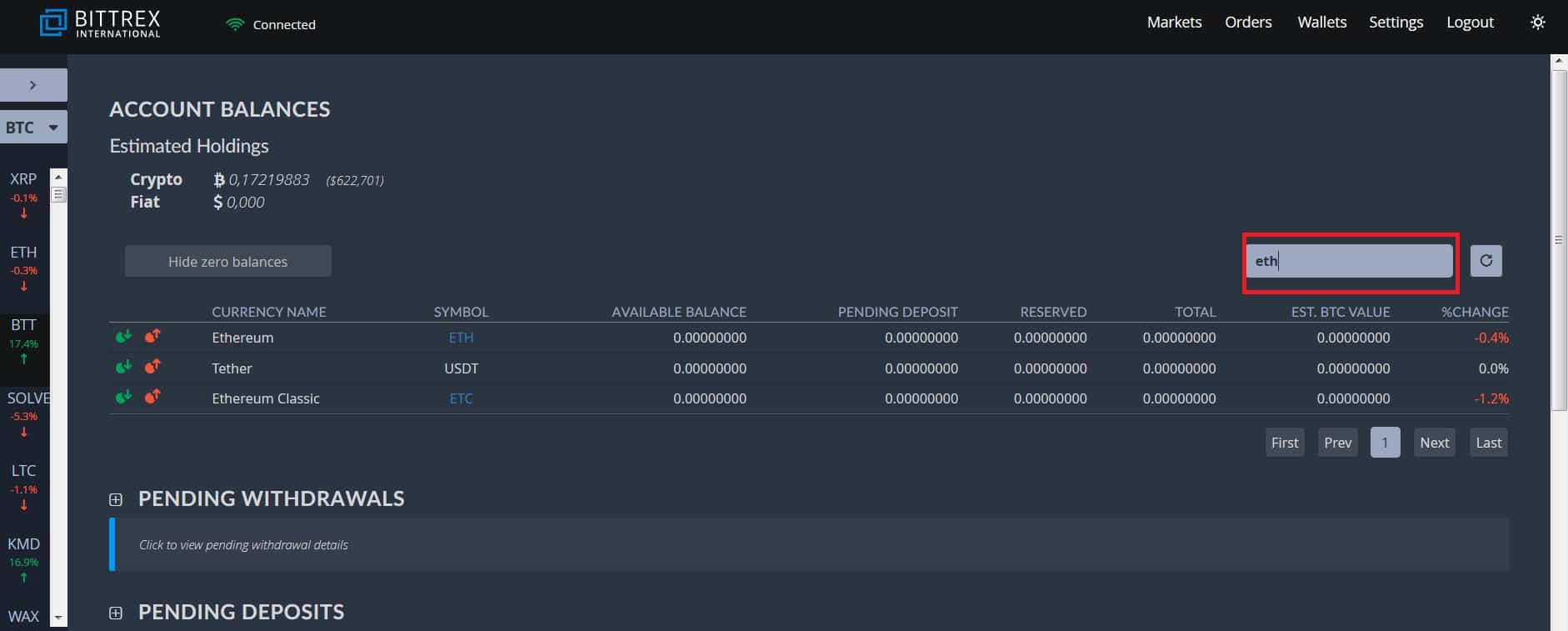 Deposit or withdraw
Then click on the green icon on the left of this line to bring up the next window where you can see an address and a QR code. The QR code is simply a way of coding your address provided to be able to transmit it more easily.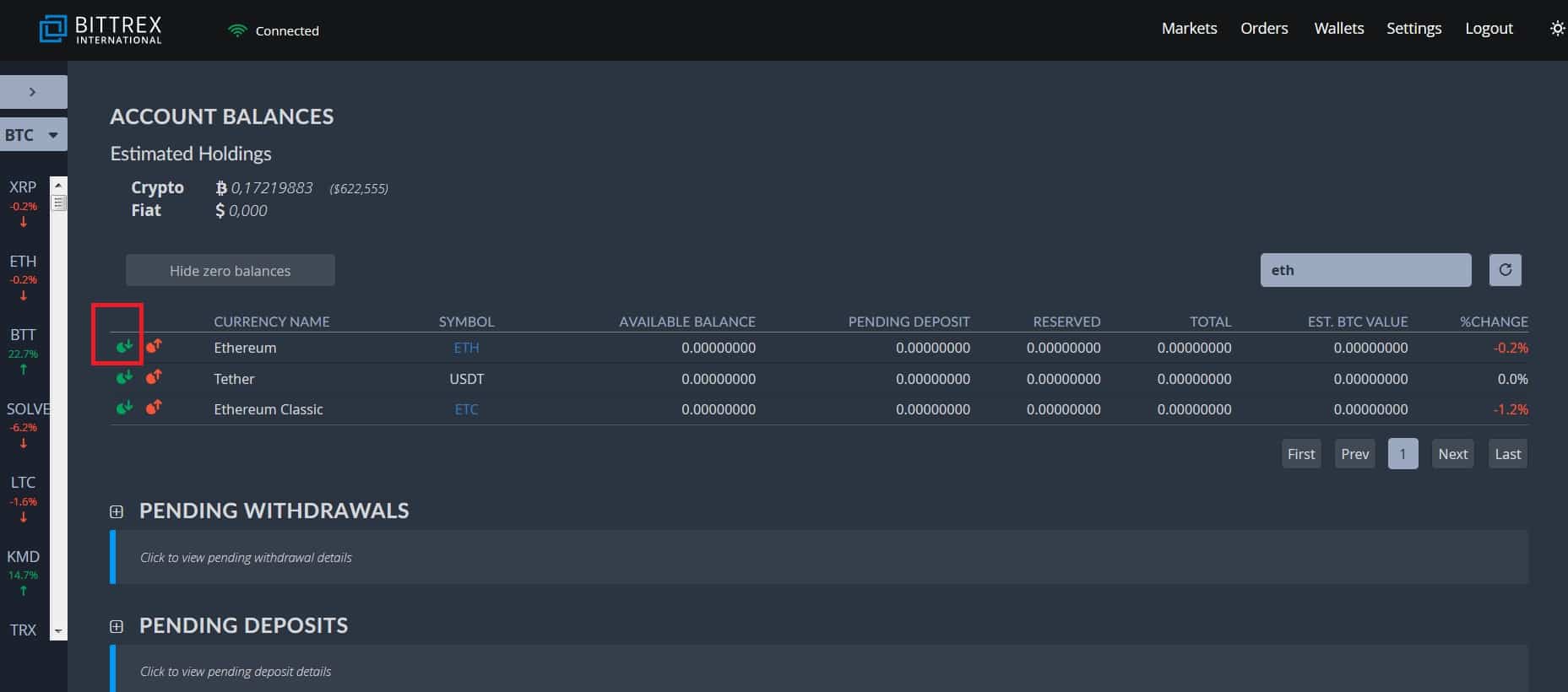 Clicking on the green icon will take you to the page below. Just click on the "Generate new wallet address" tab.
Save the generated address
Once generated, you will copy this address by clicking on the button framed in red and paste it in the part "address where should be sent the BTC" of your portfolio or exchanges. It is best to use the button to copy the entire address without forgetting a part, otherwise your corners could be permanently lost.
Once you have made the transfer, your bitcoins will appear under the "Available Balance" section (see red box above). It is important to note that this transfer can be fast, but can take up to an hour. It is considered that a bitcoin transaction is irrevocable only after 6 additional transactions have been made. A block is added to the blockchain every 10 minutes, so it can take up to 1 hour.
Disclaimer :
We wanted to remind you that your cryptos are not safe on an exchange for the simple reason that you do not hold your private keys. If we had to compare the payment with crypto to the credit card payment, the public key would correspond to the number of your blue card and the public key to your secret code. To leave your crypto on an exchange is to entrust your number of blue card and your secret code to an exchange. Perhaps you better understand why it is much safer to keep your crypto on non-internet portfolios like the Ledger Nano S.
You should ideally keep only a small portion of your crypto on an exchange, that is, those you use for trading.
Choose the market that is of interests for you
To do this, simply click on the "Bittrex" logo at the top left of your screen.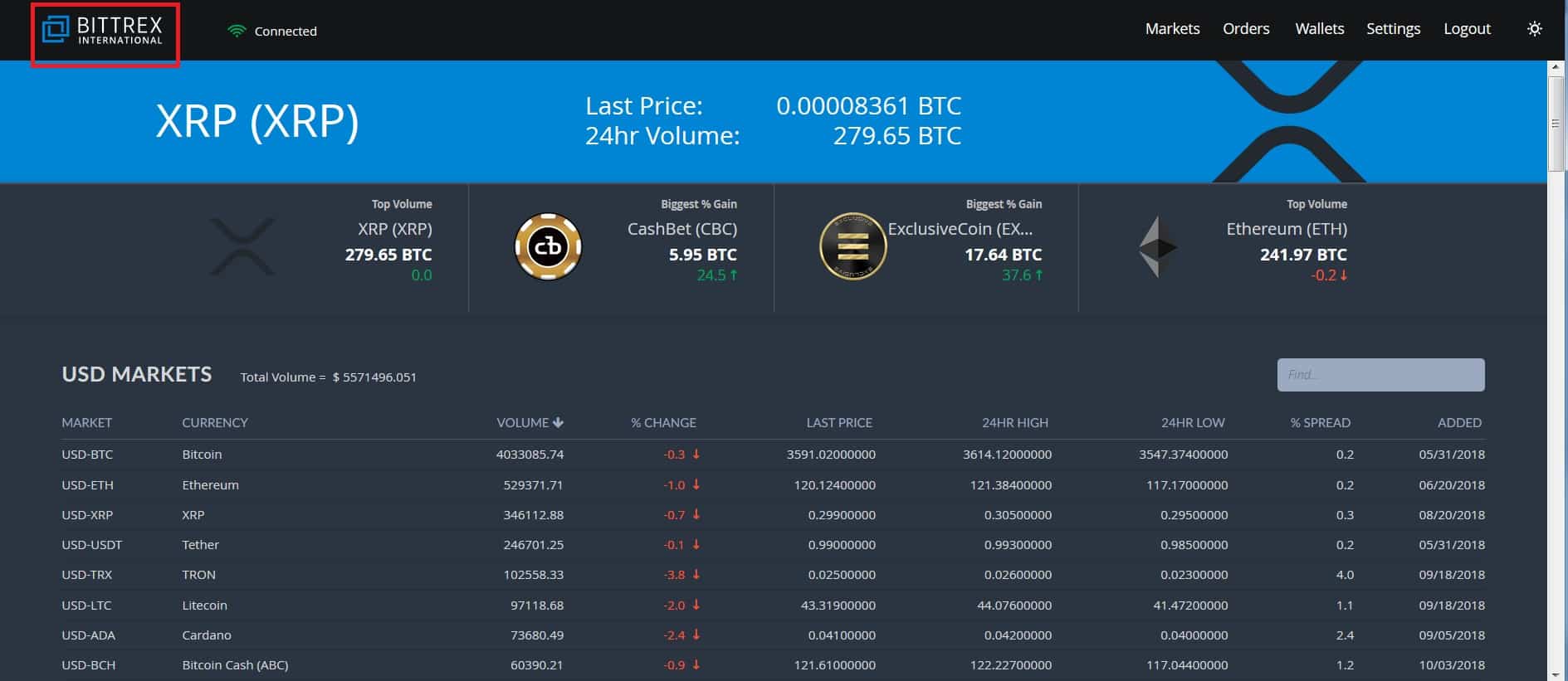 You will arrive on a Bittrex homepage. Note that the corner that appears on this page is the corner that features at the time when open the page of the biggest volume and the biggest gains. On the image above it is XRP and Bittorrent for the volume and Gambit and Nolimitcoin for the most important gains. You will arrive on a Bittrex homepage. Note that the corner that appears on this page is the corner that features at the time when open the page of the biggest volume and the biggest gains. On the above image it is XRP and Bittorrent for volume and Gambit and Nolimitcoin for the biggest gains.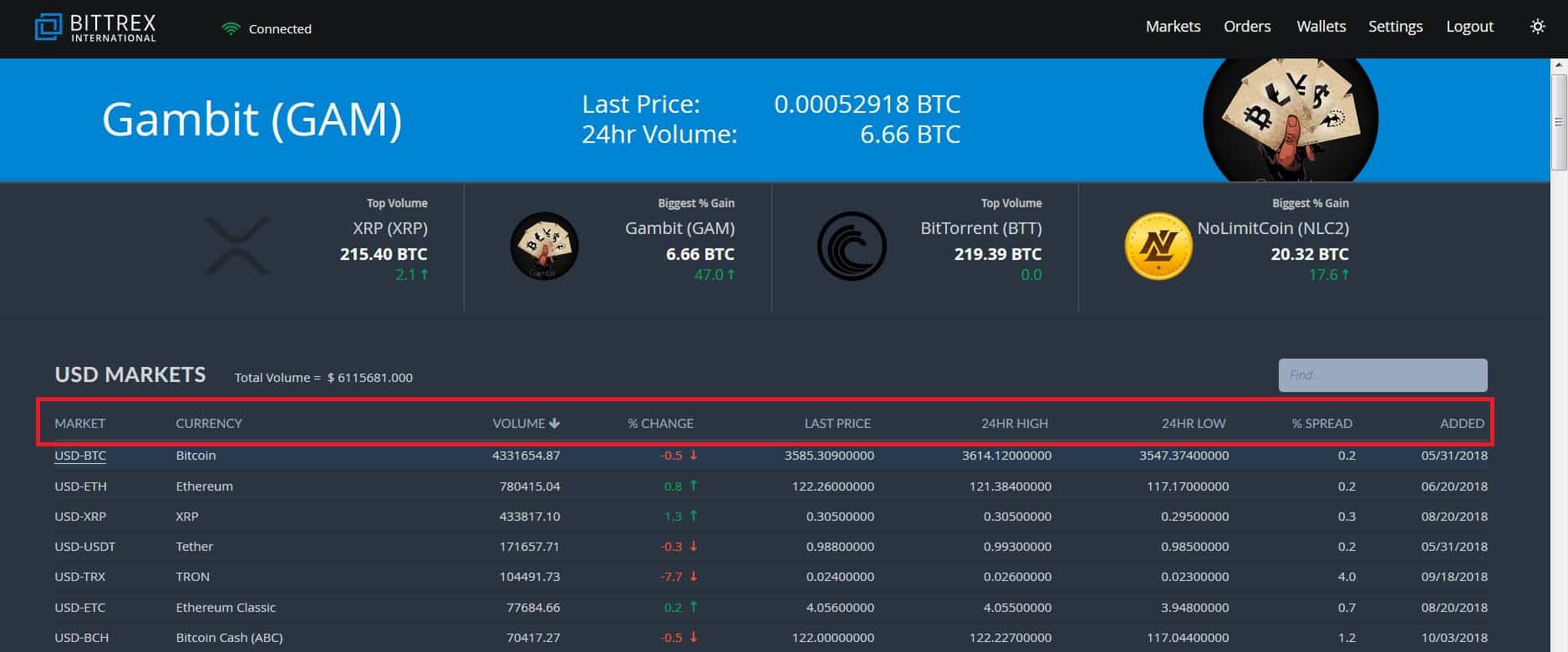 You will then be able to choose the type of cryptocurrency you want to use. First a little reminder of the information provided to you for each pair of crypto.
Market
This is the market you will choose. In the image above, you can see that the first line refers to the "USD / BTC" pair, which is the number of US dollars you can get for a bitcoin. Sis you go down, you will have access to all other markets, like the bitcoin market where you can see the number of bitcoin you can get compared to other crypts and so on.
You must choose the market based on the crypto you use to buy and the crypto you want to buy. This may seem obvious, but if you want to buy Ether with bitcoins, you will select the "BTC / ETH" market.
Currency
This is the full name of the cryptocurrency that you could acquire with your bitcoins.
Volume
If we take the example of the "USD / BTC" pair, this column is the total amount of bitcoins currently held in US dollars.
Change
This corresponds to the percentage growth or decrease of bitcoin against the dollar during the last 24 hours. If the number is in green is that the bitcoin has appreciated against the dollar, if it is red then it is the opposite.
Last Price
This column corresponds to the current price of the cryptocurrency mentioned in the second column, expressed according to the first crypto. In our example, this is the current price of bitcoin expressed in dollars.
24H High et 24H Low
These two columns are relatively simple, it is the highest price and the lowest price that cryptocurrency has known during the last 24 hours.
Spread
Expressed as a percentage, this is the difference between the asking price and the purchase price obtained.
Added
Corresponds to the date that crypto was added to Bittrex.
Note that you can click on each of these parameters to arrange them differently, that is, increasing or decreasing.
Place a buy or sell order
Once you have identified the market you are interested in, click on it. For example here we chose the BTC / XRP market. In other words, we want to buy XRP (Ripple) with bitcoins or sell XRP to get bitcoins.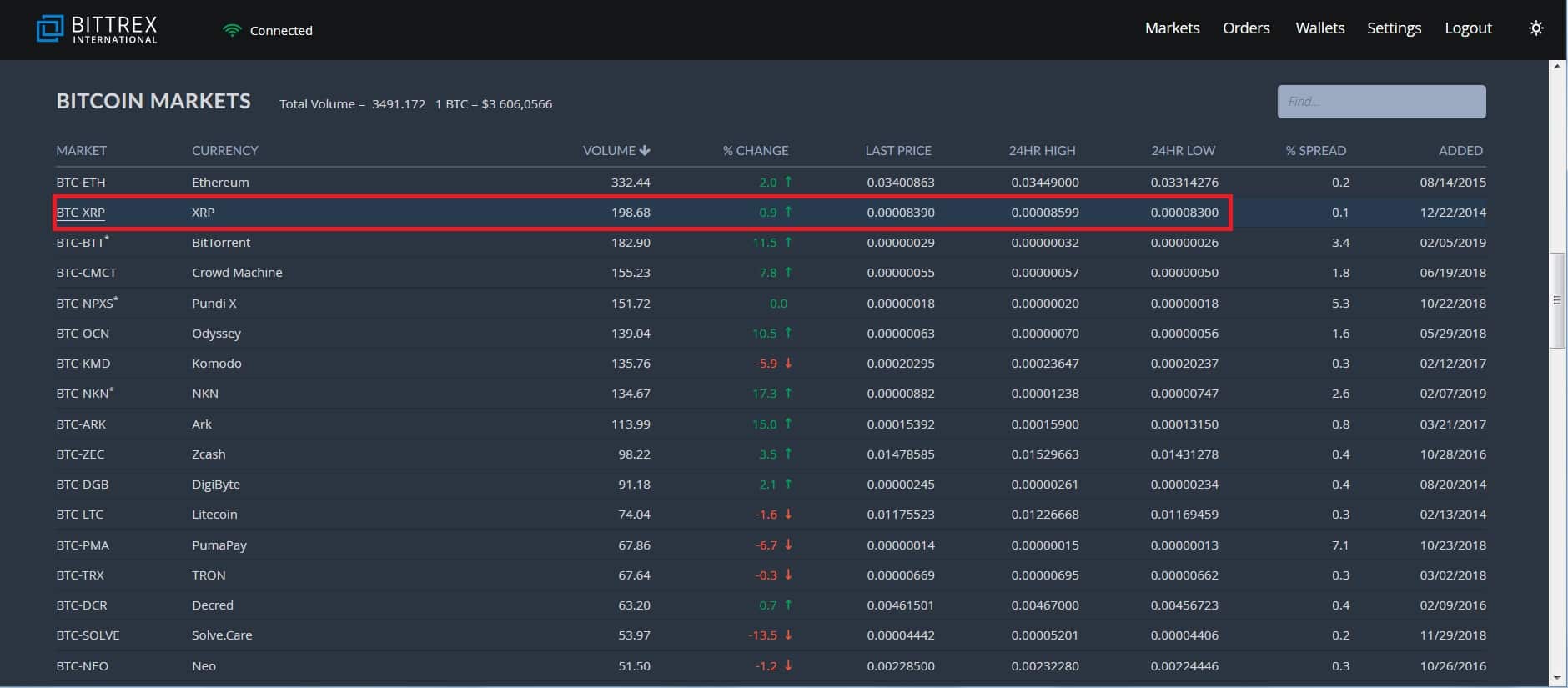 By clicking on the line that interests you, you will arrive on a page that shows the chart of the course that interests you, the order book, the possibility of placing buy or sell orders and the order history that you have placed.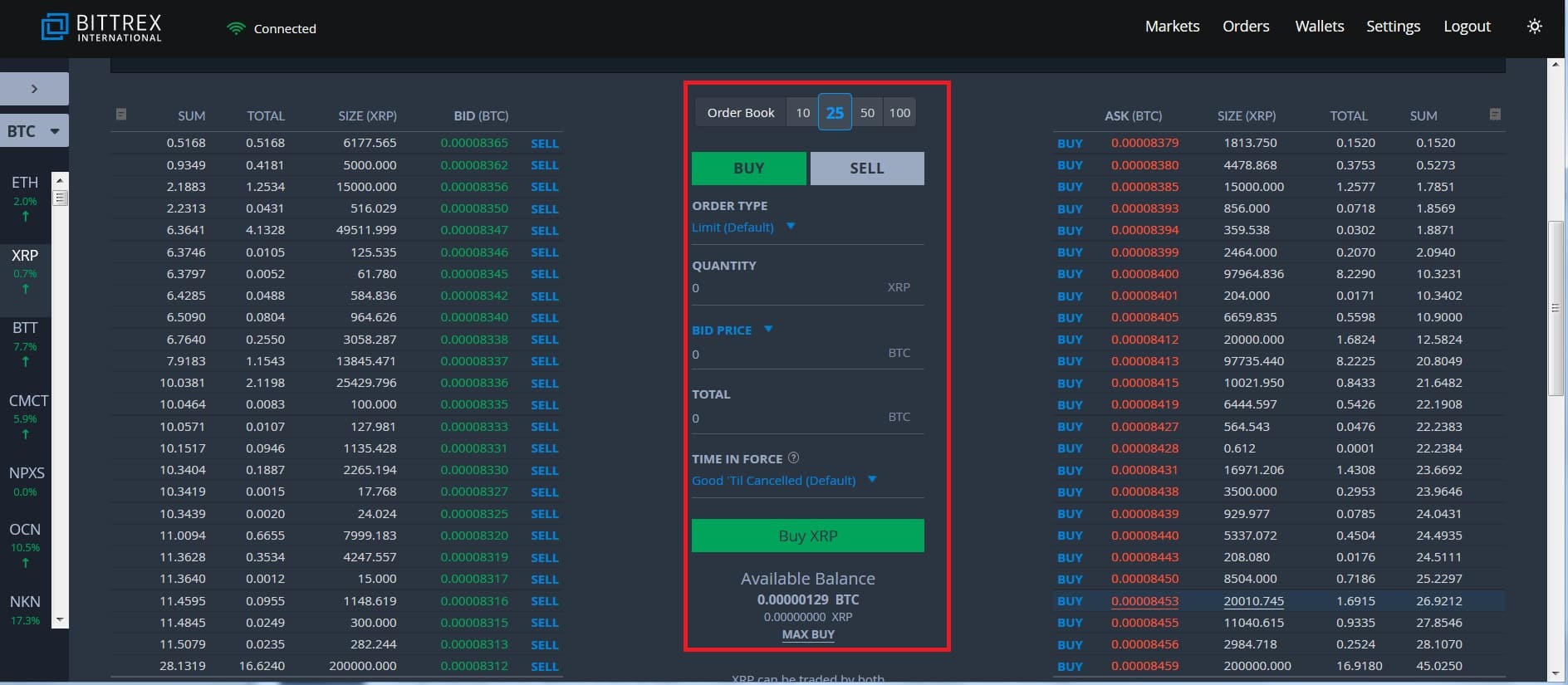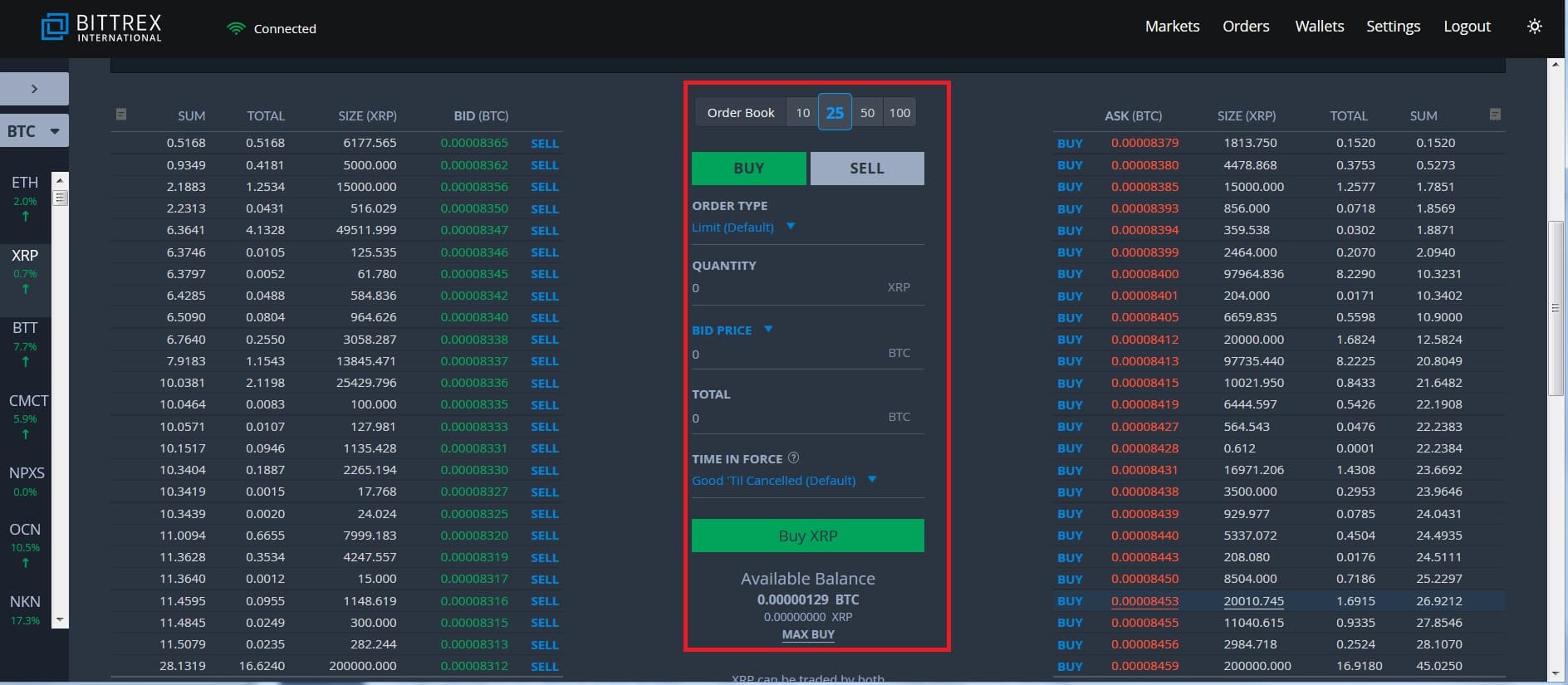 What information you need to add in order to place an order:
BUY/SELL
You must first specify whether you want to buy or sell by clicking on one of the two icons.
Order type
You can choose between several types of orders. The default setting is "Limit order", which means that you will set the exact amount of chips you want and the price at which you want to buy them.
This is not the purpose of this article, but other types of orders can buy when the price of the token has reached a certain price for example. Or sell when the price of a token drops below a certain level.
Quantity
You will then be able to add the number of chips you want to buy or sell.
Bid Price
This price is the current price of the token. Note that in case of high volatility, it is generally recommended to set a specific price, for the price you get in the end is not too far from the one you had set.
Total
The total is the amount of tokens requested multiplied by the price you set.
Time in Force
The default setting is "Good you Canceled", which means that your order will be maintained by the exchange until you cancel it yourself. This point is important because it means that potentially your order will be completed for a price different from the one you were hoping for. Indeed, if there is not enough liquidity on your token, your order may take some time to complete. But the price may change during this period of time.
Buy/Sell
Once you have completed each section you just have to validate your order by clicking on the "buy / sell" icon.
Other terms
We would like to draw your attention to the different terms you can find at the top of the trading page.


Last Price: is the price at which the last transaction was made in the order book.
IDB: corresponds to the highest purchase price in the order book.
ASK: corresponds to the lowest selling price in the order book.
BID / ASK Spread: is the difference between the BID price and ASK price.
Concretely if you want to sell your crypto quickly, you have to sell to BID Price. If you want to buy quickly, you have to buy at ASK Price. This is the default position in Bittrex, as we saw above.
Using Graphics
As you can see when you arrive on the trading page, a chart is available to analyze the evolution of the cryptocurrency price since it was issued. A tab at the top left of your screen allows you to zoom in on the chart by choosing the duration of each candle.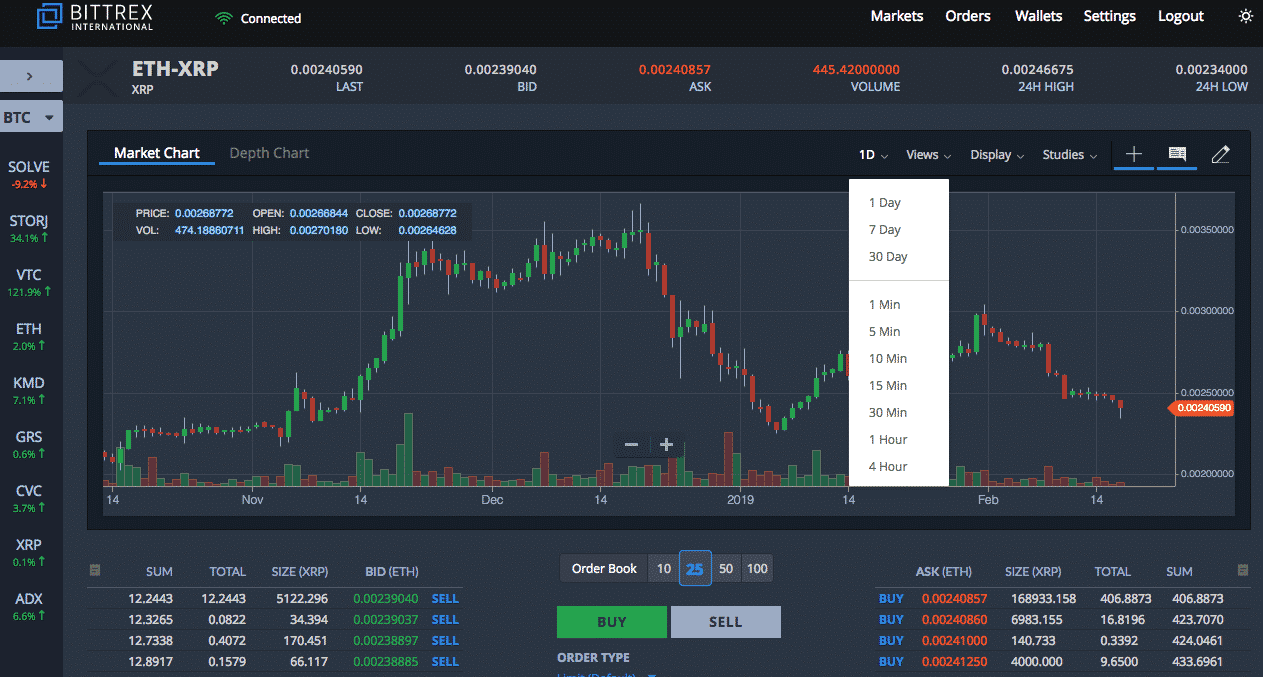 For example, if you choose 1 day, each candle will represent one day. It will be red if during this day the price of the crpto you chose has dropped and it will be green if the price has increased. It's the same if you choose 1h for each candle. It will be green if during this time the price has increased and red if it has dropped.
The chart also offers many technical analysis tools. To use them, just click on tools. For example, you can choose to use lines to mark support and limits on the curve. You can also choose the thickness and color of these lines.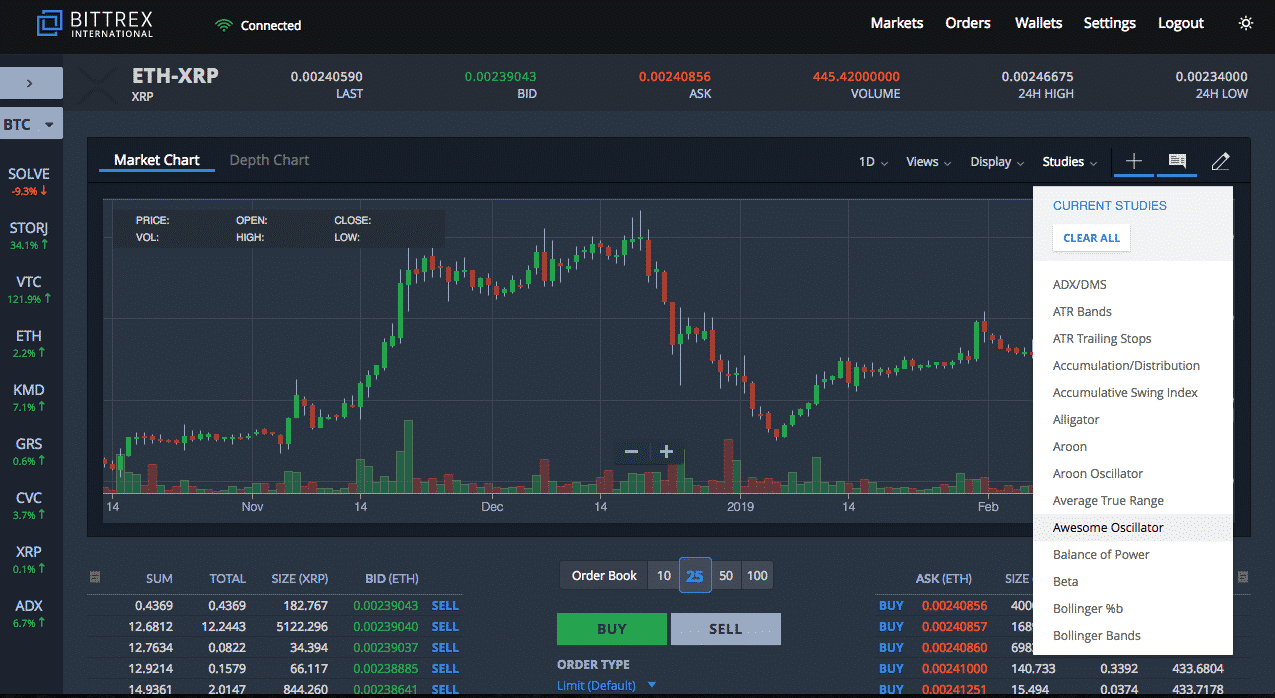 Bittrex also has some thirty indicators needed to perform a technical analysis.
It should be noted that Bittrex currently does not offer Margin Trading.
More on this topic
local bitcoins review – Read this before using [Full Guide 2019]
Bitcoin Value in Dollar – how to analyze and predict it? [Ultimate guide 2019]
Follow me on Social media